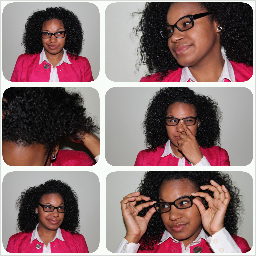 If left up to the small or large screen, your favorite glossy or newspaper, or even big budget advertising campaigns, you wouldn't know an Afro-Latina if she tapped you on the shoulder. But we are out there, and we're letting our voice be heard. Ain't I Latina?'s Everyday Chica series highlights millennial Latinas that are blazing a trail in their respective industries, leading by example for future generations of Latinas. This week, we're featuring a rising marketing and advertising professional who's invested in tomorrow's leaders.
You know that one person that has a blossoming career, full social calendar, and can hold her familia down at any point (and still has time to help you sort through your daily dilemma (s)), doing it all with a perfect smile?
Meet Francis Carrero, a modern day Renaissance Dominican woman ready to take on the advertising and marketing industries. Carrero, a Washington Heights resident, spends her days overseeing programming and alumni relations at Together Our Resources Can Help (TORCH), a nonprofit dedicated to transforming the lives of underserved NYC public high school students by providing career preparation and opportunities in communications and the arts. A former TORCH participant herself, Carrero landed a full-time position with TORCH after graduating from Syracuse University, and works tirelessly to make sure the students get the best experience possible. If that means she's conferenced in on a meeting with sponsors all while getting her students to an ad agency to finish an assignment, Carrero will do it.
"It's funny because sometimes I feel like I'm their mentor, their big sister, their parent," said la dominicana. "I'm like a lot to them, even their drill sergeant when they don't get to meetings on time."
Her hard work and passion for advertising has led to the addition of ADCOLOR FUTURES to Carrero's resume. The program, which is in partnership with the ADCOLOR Diversity Summit (ADS), introduced the cohort to diversity leaders in advertising, as well as invaluable career development and mentorship opportunities.
In addition to flexing her advertising and marketing skills during the week, Carrero works on independent brand management projects off the clock, recently adding hip-hop artist Clifford Cartel to her roster. We caught up with the busy Afro-Latina to discuss race and ethnicity, how she identifies and her advice to her younger self.
First memories of race/ethnicity…
When I was younger, I had one black Barbie doll—and I loved that black Barbie doll.
Pages: 1 2