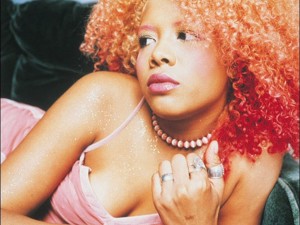 "Milkshake" singer Kelis Rogers is known for marching to the beat of her own drum. Making her debut on Ol' Dirty Bastard's single "Got Your Money," her unique voice and colorful style have received considerable attention.  She has collaborated with music industry hitmakers like The Neptunes, David Guetta and Cee–Lo Green.
The part Chinese, African-American and Puerto Rican beauty from Harlem has set trends over the years, making it much more exciting to see what the star will do next. Her new album, titled FOOD, comes out today, intertwining her two passions: music and, well, food! Here at Ain't I Latina?, we admire her individuality and cool kid steeze, among other things, so see why we adore the star:
Fresh Fashion Sense
Whenever Kelis is in the spotlight, expect her to wear threads that exemplify her uniqueness. Some people say she's out of the ordinary with it because she doesn't stick to traditional views of dressing up. *Shrugs * But it's sure to grab your attention, to say the least.
Foodie to the Core
Between 2006 and 2010, the singer enrolled in culinary school, training part-time as a saucier. During that time, she also penned a cookbook and designed her own line of fashion accessories called Cake. She introduced her line of sauces, Feast, last October. This year she launched a cooking show, Saucy and Sweet, which aired on The Cooking Channel.
Her appetite for music is expressed in her new upcoming album, titled FOOD.
When she first hit the scene back in '99, her curls made big waves. I guess we can call her a trendsetter because many women are rocking those very styles today. Her multicolored tresses worked naturally for the expressive songstress. She took it to the next level in the 2000s when she chopped it all off and got a bold pixie cut, giving her a very edgy look.
Passionate
Kelis' passion and spirit can be felt when you listen to her tunes. Songs like "Caught Out There" and "Bossy" are prime examples. She is not afraid to embrace her womanhood and won't accept being disrespected *Turns up "Caught Out There."*
Confident
From her music to her style, Kelis' bold attitude and confidence is expressed in everything she does. Through her honesty and self-acceptance, she has inspired many of us to stay true to ourselves. Who can ever forget the introduction to "Bossy"? 
"You don't' have to love me, you don't even have to like me, but you will respect me." #dropsmic
If you're a Kelis fan, what do you love about the songstress? Share your response in the comments section below, or on Facebook or Twitter.