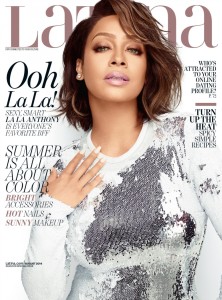 Mompreneur, actress and reality-show starlet and media maven La La Anthony is the August 2014 Latina Magazine cover girl.  It's Anthony's fourth Latina cover and the Boricua looks ABSOLUTELY gorgeous.
Here's a snippet form her Latina feature:
On her perfect night with her family: "My husband, my son and I have the best time when it's just the three of us. It's nice to all be together, put a movie on, lie in the bed and laugh. That's my idea of a perfect, fun time."
On being ready to have another child: "I do start feeling bad because [my son, Kiyan, 7, will] ask about a baby [sibling] and I feel a little selfish. If I did have another child, the reason would be that I wouldn't want my son to be alone in the world as an only child. But we'll see."
On designing clothes that flatter Latinas [she has her own fashion line, 5th & Mercer]: "I always notice my quickest-selling sizes are the fourteens, the twelves and the tens. I just won a little disagreement to increase the sizes with the website ShopBop. They were only going from zero to eight and I'm like, 'No, we come in all sizes, we have to increase the sizes.' So now they go from zero to fourteen and I wish they would go even higher."
Click here to get a behind the scenes look at Anthony's cover shoot. 
Do you plan to grab the latest issue of Latina with Lala? Let us know what you think about the cover in the comments section, or on Facebook or Twitter.