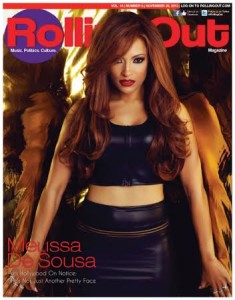 Panamanian-American actress Melissa De Sousa graces the cover of the latest issue of Rolling Out magazine and she's not holding anything back. De Sousa speaks candidly about her acting career, landing huge roles like "The Best Man Holiday," the sequel to the 1999 hit "The Best Man," rejection and the importance of Black cinema.
See what the Queens, NY-native had to say, below:
On the advantages/disadvantages in landing roles…
Tons of rejection … [so] much I can't even count. I mean most of the time [I get] more 'nos' than 'yeses.' I never really had anyone say anything real horrible to me. I had to prove myself. I remember when I auditioned for Hustle & Flow, which is the one [movie] Terrence got his nomination for. You know they thought I was 'too pretty' and I wouldn't be able to play a down-on-her luck stripper. But I begged them to see me… You have to prove yourself because people always want to put you in a box. I am just the one not to do that to.
Highs and lows of acting career…
It's not always easy to get in the 'door.' You know when I first came to Los Angeles, I slept on my girlfriend's floor for a year. I got my first agent and I sent my pictures out to everybody and since I had no experience and I had nothing on tape or even seen, some of the [agencies] sent my pictures back to me [laughs]. So one agency would see you in person and they want you to come in and audition in their room and once again I had to prove myself in person. You have to have an attitude that nothing's gonna stop me. I think that's just my New York kind of attitude — survival of the fittest. That's why I love that song [Empire State of Mind] so much because that's how it is when people go off to New York.
Black cinema, then and now…
I think it's positive. We had to start somewhere. Those stories in the past needed to be told. Everything gets better with time. I feel like now it's getting back to those great [director] Spike Lee days, more diverse, more intelligent [films]. You shouldn't underestimate your audience. I feel like it's changing for the better. There are roles for all types of movies, I mean you still want to watch the urban movies and they need to be told. You still want to see something you haven't seen before. Like everyday movies like 'The Best Man'. The movie didn't have to be played by African American people; it is a movie that everyone can relate to.