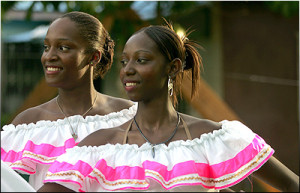 Upon first glance, you probably wouldn't even think I was Latina. You're probably used to the fair-skinned, bone-straight hair wearing women you see in movies, on the small screen or on local news programs (and there's absolutely nothing wrong with those beauties), but we don't all look like that.
I have women in my family that look like that, but my earliest memories of Latinas have consisted of the curvaceous, brown skinned, kinky/curly haired reinas like my lita, mom, aunts, family friends and las dominicanas that straightened the heck out of my super tight coils.
Despite growing up with those queens, I yearned to see myself in the women shown on Univision, in the novelas and in the magazines that arrived in my family's mailbox. I enjoyed the issues of Essence, JET, Ebony and later Latina that came across the dining room table but couldn't help but wonder why our images were limited to niche glossies.  Not to mention, it wasn't until recently that even niche publications, as well as television networks, have shown Afro-Latinas. This disconnect coupled with the barrage of questions that followed any introduction (it was pretty much downhill after I said, "Martinez") brought on an identity complex. I knew I was Latina and Black, and that both my parents were from Honduras. I also understood there were numerous Latinas out there that looked like me, but did they not speak fluent Spanish, too? Once I confessed that to most Latinos, I received the infamous side-eye. It wasn't just strangers, it was family, tambien. I'll admit, I speak very basic conversational Spanish, and won't break it out until it's absolutely necessary. (I'll delve into this in an upcoming blog post.)
Fast forward to my college days, it took an experience abroad for me to fully accept my identity as an Afro-Latina. I spent six transformative weeks in Paris, France exploring identity and the African Diaspora. (I'll write about this experience, too!) A few years after my summer in Paris, I had an "aha" moment. Why not shift the paradigm and go from consumer to producer? I decided to create the platform I never had, and quickly began brainstorming. Hence, Ain't I Latina? was born.
Whether you speak Spanish fluently or not, identify as Afro-Latina, or prefer not to label yourself, Ain't I Latina? has something for you. Here, you'll get a daily dose of sazón. The content that exists on this site is inspired by my life and experiences, as well as what I have always wanted to watch or read. You may disagree with some of the views shared here, but doesn't that make for an interesting conversation?
I'm excited to launch Ain't I Latina? and I hope that you'll keep coming back—and tell a friend to tell a friend. I've shared Ain't I Latina? with my family, several friends and colleagues to date, and I'm so thankful for their wise words and support. Seeing a concept that started out as an idea come to life is like giving birth. I can't wait to see my baby grow, but more so I'm looking forward to seeing how she touches the lives of all those she comes in contact with.
Enjoy!
Janel Martinez