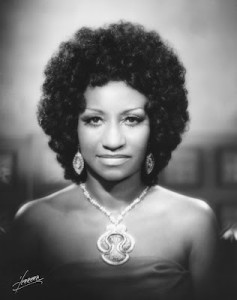 Late Cuban salsa singer Celia Cruz was honored on the Walk of Legends at New York City's Apollo Theater. The "Queen of Salsa" is the first Latin artist to be honored with a place at the Apollo's Walk of Legends.
She was honored on March 22, which marked the 50th anniversary of her first appearance at the legendary New York theater. Cruz performed there in 1964, sharing the now iconic stage with Cuban musician Machito and Puerto Rican musician Joe Cuba. During Saturday's event, Cuban singer Lucrecia and Dominican salsa musician Jose Alberto, known as "El canario," performed some of Cruz's most famous songs, reports Fox News Latino.
Cruz also has a star on the Hollywood Walk of Fame.
PS: I'm absolutely obsessed with Celia! So glad she continues to be recognized for her tremendous contributions to the music business.