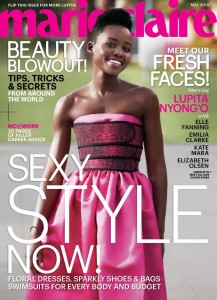 Since her Oscar win, the beautiful Lupita Nyong'o has been featured on back-to-back magazine covers. Similar to the Essence cover featuring Solange Knowles, Ledisi, and Erykah Badu, the breakout actress shares the cover with Emilia Clarke, Elle Fanning, Kate Mara, and Elizabeth Olsen for Marie Claire's Fresh Faces  issue.
In the magazine, the Mexican-Kenyan actress spoke about her new status as a fashion icon, stating:
"I wasn't a follower of fashion. It was a world unknown. Then I met my stylist, Micaela Erlanger [introduced to her by friend and 'Non-Stop' costar Michelle Dockery], and we came to interpret my style: clean lines, strong color. I don't dress to impress; I don't feel that pressure."
The 31-year-old actress further explains how topping this year would be virtually impossible:
"As brilliant as it was, onward ho. I hope that I will get to work soon. In due time, what I should do next and what I want to do next will reveal themselves. I am not in the business of trying to top this year—that's virtually impossible. I'd have to be pronounced the queen of England or something."
Check out Nyong'o's interview and beautiful spread in the latest issue of Marie Claire!