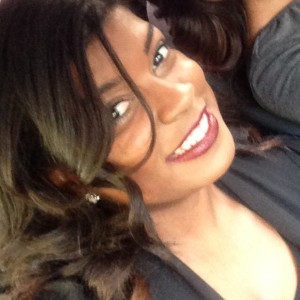 If left up to the small or large screen, your favorite glossy or newspaper, or even big budget advertising campaigns, you wouldn't know an Afro-Latina if she tapped you on the shoulder. But we are out there, and we're letting our voice be heard. Ain't I Latina?'s Everyday Chica series highlights millennial Latinas that are blazing a trail in their respective industries, leading by example for future generations of Latinas. This week, we're featuring a NYC-based social media professional who embraces her roots wholeheartedly.
In speaking with Karla Ovalle, I really resonated with her story as an Afro-Latina, born in Santo Domingo, Dominican Republic, overcoming the "ESL label' many schools place on immigrant students and her deep understanding of her roots. I could go on and on about this millennial mujer's drive and determination, but I'll let her story speak for itself. Meet Karla …
Tell me about yourself: Where are you from? Talk about your upbringing — how did it help you craft your identity?
I started to really form my identity in high school. My high school was on 58th and Broadway, so being around different cultures (Washington Heights, where I grew up wasn't that diverse. Dominicans all day, every day) allowed me to see where I fit in. By then, I actually didn't have a Spanish accent, so when people asked me "What are you?" because they heard me speaking Spanish with my friends, I had to formulate a response.
At home, my father and I learned English at the same time, while my mother didn't really learn the language because we lived in an enclave. He and I would often share stories about people starting to speak to us in English, then realizing from our confused faces that they had made a wrong assumption about us. However, my dad always reminded me to never deny that I am Black. In the Dominican Republic, there's a prevalent culture of denying "negritude," which is not only harmful, but socially regressive. But both my parents made sure I was rooted in our mother culture and tongue. My dad used to make my brother and I read Spanish newspapers (El Nacional, El Diaro la Prensa) out loud every Sunday. There was always salsa, merengue and bachata blaring out of our living room. Always. With a healthy mix of disco and Bob Marley.
Growing up watching Univision and Telemundo meant that I NEVER saw people who looked like me. With the exception of the lowly housemaid or wise old man in Thalia novelas. I didn't think that Latin culture thought I was pretty. I found more encouragement from TV characters on American shows, like Lisa Turtle, Laura Winslow and Ashley Banks.
Many millennials love social media and you help spearhead some of the conversations on these platforms as a social media and marketing professional. What peaked your interest in your respective industry?
At the time I joined Twitter, I was a recent college grad still trying to weigh out whether or not I would go to grad school…The more I spoke to people in different fields, the more I realized that I wanted to be somehow involved in media. I loved the fast pace of breaking news and I loved reading about how brands were starting to adopt social media in their overall strategies and brand messaging. I wasn't a journalist (though, admittedly, I'm a journalist fan girl), so marketing and emerging social media was the path with the most open doors for me. I scored an internship with Baratunde Thurston (at the time of The Onion) right as he was getting ready to write his book, "How To Be Black." Baratunde let me have the 'Community Manager' keys to JackandJillPolitics.com and that helped me land the social media coordinator position at Interactive One/TV One/Radio One. Now, 3 years later, I'm at Black Enterprise.
Pages: 1 2