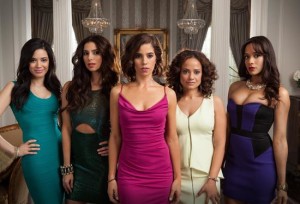 I've been hooked on the highly praised Lifetime series 'Devious Maids' since the show debuted last June. Yes, Carmen, Marisol, Rosie and Zoila are back on the small screen this Sunday (10/9c).
Viewers follow the storylines of each of the maids, but, during season 1, all roads led to solving the murder of Flora, a dear friend of the maids. (We discover Philippe, Genevieve Delatour's fiancé, did the crime…smh.) Now that we're gearing up for the sophomore season of the Eva Longoria produced series, there are bound to be more twists and turns.
We've read a few spoilers, but check it out for yourselves tonight! Here's a glimpse into season 2:
Are you ready for the new drama-filled season? Let us know your thoughts in the comments section.