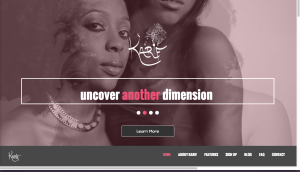 Currently, how do you think Afro-Latinas/Latinas portrayed in the beauty and media industries?  
Barely. I feel like Afro-Latinas have not been exposed to the extent that they should be given that we comprise a great majority of the Latin American population. We are vastly underrepresented through media because our nations still choose to believe that dark skin is not beautiful.  I mean, we are all a mix of different races and ethnicities, but there is still a racist perspective that the lighter your skin or eyes are, the more beautiful you are. We have not accepted that being Black is beautiful so it shouldn't surprise us that media and other such industries do not reflect it.
How do you identity? Do you consider yourself Afro-Latina, or use another term to describe your race and/or ethnicity?
I identify myself as Garifuna, and Afro Latina. I just like to throw in the Garifuna first because it is my culture, or perhaps the true essence of being Afro Latina. The term Afro-Latina is a more general word to describe the people of African descent living throughout Latin America. Both terms hold true, so that is what I identify myself as.
What is your earliest memory of identifying as Afro-Latina/Garifuna? How did you come to identify as such?
Wow, this is a great question!  My earliest memory was in college. It wasn't a specific event or anything like that. It was more of an epiphany. There's something self-defining about being in an environment with people from all around the world. Yes, I was raised in the 'Melting Pot,' however, going away to college made the diversity pop out more. The more I encountered and met new people from different walks of life, the more I auto-defined myself. College was truly an eye-opening experience.
Who inspires you?
My earliest memory of identifying as an Afro-Latina occurred when I was very young. I had an aunt, God rest her soul, who was so flamboyantly Garifuna. She was a hardcore party girl — she was at each Garifuna event. She also made and designed clothing and I used to love going with her to the fabric store and watching her create fantastic Garifuna-style clothing for different events. My aunt also sang. She had several CD's that she produced with her band. Many of her songs were sung in both Garifuna and Spanish and spoke about the Garifuna struggle in Honduras and the U.S.A. Although she has passed away, she remains as one of the most influential people I have ever encountered. Through her I learned to love my culture and my "Afro-Latinidad". Through her example, I identified as a Garifuna, Negra y Latina. In that order.
Which Latina matriarch do you most identify with? Why?
Okay, you can go around asking Afro-Latinas all over the world this same question and you'll probably hear the same response. Celia Cruz!  I mean, she was just too awesome. Celia Cruz was the kind of woman that lived life and had fun throughout it.  Her music and dress exuded Blackness and she was not ashamed to be Black. I identify with her simply because I am proud of who I am as an Afro-Latina. I bet that she went through what most of us have to go through as Black Latinas and had to undergo a process of self-acceptance. I love people with strong personalities – Celia Cruz was a hurricane of change.
What's one piece of advice you'd give to your younger self?
Love yourself.
You can follow Elsa's KARIF Beauty on Twitter at @karif_beautybox. Check back next week for our next "Everyday Chica" profile. If you'd like to nominate an Afro-Latina to be featured in this section, email aintilatina@gmail.com or contact us on Twitter or Facebook.
Pages: 1 2