Once I decided to go natural, I said goodbye to my bi-weekly hair salon visits. Of course, you can still have your curls cared for at a salon, but, for me, my visits became scare. Only sitting in the salon chair for a trim, or the rare occasion when I get my hair straightened.
For me, it's been difficult to find the right stylist and salon.
When I heard a natural pop-up salon was set to open in New York City, I decided to try it out.  Similar to Drybar, GoodHair provides quick, professional service for women with textured hair. Open Monday-Saturday, 7am – 9pm, GoodHair is open until August 8 and provides naturalistas with an array of styles, from "Good to Go," which defines your natural curls and "Bohemian Goodness," a French braid, to "Good to the Bone," a straight, silky look, and "Crazy Sexy Good," which a curls, waves and body combo. Quick styles run around $45, while a full treatment will cost $65.
My GoodHair experience was one of the best salon experiences I've had to date. I'm a lazy natural, so I tend to like low-maintenance hairstyles, when I'm doing my own hair. I shared my style and hair upkeep regimen via GoodHair's survey, as well as to my fabulous stylist Angela C. Stevens. Stevens is the senior creative and educational advisor at GoodHair and was a cast member on WeTV's LA Hair.  She's styled countless celebrities from Beyoncé to Rihanna. During my consultation, Stevens briefed me on my hair type (4a, with other types in certain areas), its health and the best products for my semi-dry 4a/4b/4c hair.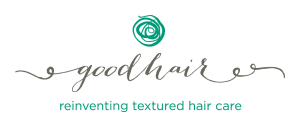 In addition to washing my hair, I sat with Oyin Handmade Honey Hemp Conditioner (great for moisture!) under a steamer. Once that was washed out of my hair, Stevens applied a selection of Karen's Body Beautiful products, including the Blossom Moisture Mist, Hold it Hair Gel, and Jojoba Oil. She also used a diffuser for my roots to lengthen the tight curls.
I've been natural for nearly five years and swore I couldn't do a wash and go, but Stevens showed me otherwise. I received the "Good to Go" with "Bohemian Goodness." She explained that steaming increased curl retention for my curls and gel helped with definition.
"It's important to create a conversation that everybody can understand," said Stevens.
My salon experience didn't end when I walked out the door. I received my hair prescription a few hours later, which detailed all of the products used and suggestions for styling.
To make your appointment, visit thisisgoodhair.com.  The GoodHair salon will open in 2016.
You can read more about GoodHair at MadameNoire. (I wrote this piece!)
I have to give a huge thank you to GoodHair founder Folake Oguntebi, Stevens and Alliah Livingstone.