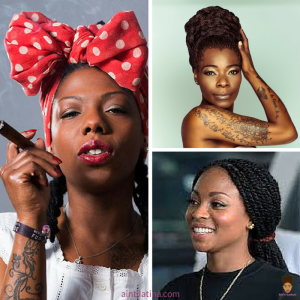 Summer is here and there's no better way to take in the rays and enjoy the cool breeze than with some alt-Latino tunes. From hip-hop, to flamenco, to Cuban soul, and more, here are three Afro-Latina musicians making waves in the music scene:
Concha Buika
Maria Concepción Balboa Buika, also known as Concha Buika, or Buika, is a Latin Grammy Award-winning vocalist, poet, composer and music producer. The 44-year-old was born in Palma de Mallorca, Spain to parents from Equatorial Guinea. Fans know her for having a deep and raspy voice that perfectly blends the heart wrenching sounds of the Moorish flamenco, and the strength of African rhythms, jazz, blues and soul.
The singer's latest album "Vivir Sin Miedo" ("To Live Without Fear"), released in October, plays with a variety of sounds like R&B, Gospel, Soul, Nuevo Flamenco, and Reggae. She is currently on her "To Live Without Fear" summer tour, which goes through Europe, but makes stops in Pittsburgh, PA, and Barranquilla, Colombia. Check out dates and cities here.
Goyo
Gloria Emilce Martínez, also known as Goyo, is the female vocalist of the Latin Grammy Award-winning Afro-Colombian hip-hop group ChocQuibTown. According to El Espectador, the singer and rapper got her nickname from one of her favorite songs by El Gran Combo, "Goyito Sabater," which her mom would play for her on days she didn't want to go to school.
ChocQuibTown sounds like the Colombian Pacific meeting the urban United States. The Sweet sounds of the marimba and rhythmic Afro-Colombian beats are delicately complemented by heavy hip-hop lyrics. Goyo adds a powerful female twist with her intricate raps and mesmerizing vocals.
The group released their latest studio album, "El Mismo (That One)" in May 2015, and released the video for their latest single, "Nuqui," on May 23.
La Dame Blanche
Yaite Ramos Rodriguez
, Cuban singer and rapper living in Paris, made her debut as La Dame Blanche (French for The White Lady) back in 2014 with the release of her solo EP. As the daughter of Jesus "Aguaje" Ramos, musical director of the Buena Vista Social Club Orchestra, she has soul and jazz written all over her, but is defining her own musical path through the use of urban and folklore rhythms like hip-hop and cumbia.
Her sound is almost indescribable, as she tends to shift from song to song. She can easily go from heavy and fast hip-hop to a soft melodic tune. She's all around musical heaven.
The artist released her latest album, "La Dame Blanche 2," this past May, and will be performing as part of the Latin Alternative Music Conference this July in New York City.
Let us know what you think of these three musical powerhouses and their latest work in the comments section, below.