Hispanicize 2014 officially starts today! But if you're like me, you're stuck elsewhere. Clearly, the wrong place to be, verdad?
Of course we need to make the annual conference next year, but, in the meantime, we can follow the conversation on social media. (Let's hope this fills the void!) Before I jump into exactly where you can follow the Latino trendsetters and newsmakers, here's a snapshot of last year's turnout: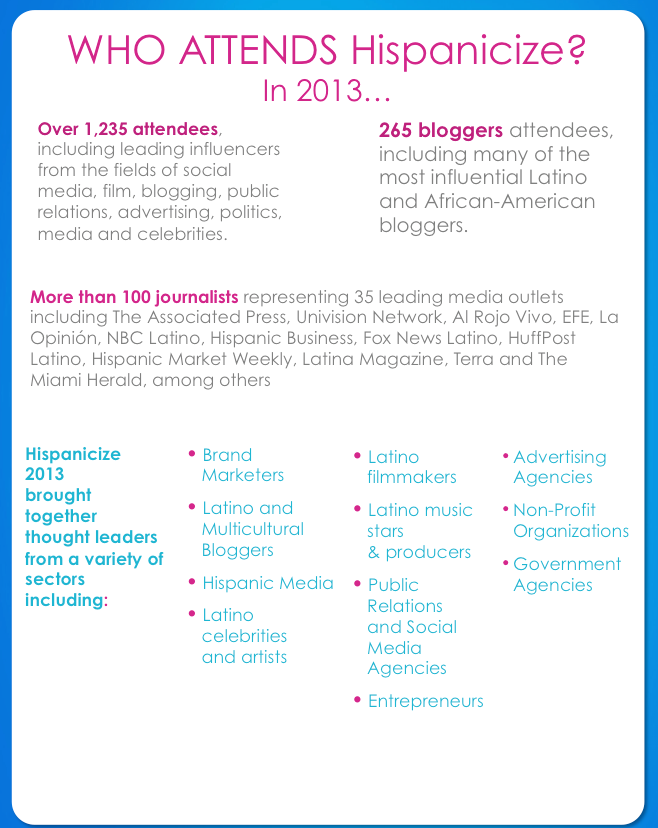 Held at the Intercontinental Hotel in downtown Miami, this year's scheduled speakers and honorees include well-known Cuban blogger Yoani Sanchez, Maria Hinojosa and Patricia Pineda, Group Vice President of the Hispanic Business Strategy Group of Toyota Motor North America. The conference, which is in its fifth year, will feature more than 67 regular and extended length sessions as well as 20 Hispanic brand sit-down sessions, music concerts and a film showcase, among other great activities. With the conference in full swing, these three methods will keep you in the know:
There's an app for that
Whether you're on the ground in Miami or checking out the scene from your sofa, the Hispanicize app gives attendees the complete schedule for the four-day event. Checking out the schedule will keep you abreast of the speakers and activities that most interest you. This may lead you to the next option…
Follow on Twitter
If you're not following the official Hispanicize account (@hispanicize) on Twitter, start now. The blogueros, journalists and pr and marketing folks in attendance will be sharing and discussing points brought up in the panel discussions, so follow hashtag #Hispz14. I'd advise even making a Twitter list of the speakers and influencers there, so you can follow along with ease and streamline the ongoing discussion.
Facebook is another great way to stay connected with the convo. Friend Hispanicize Wire for conference updates.
Live Stream
For the first in Hispanicize's history, the entire event will be live streamed online, courtesy of official live stream sponsor 3M. The live stream will be powered by the Google+ platform and appear on Hispanicize.com. The live stream will begin at 9 a.m. Tuesday and conclude on Friday, April 4. Only one session will be live-streamed every hour—the rest will be recorded and uploaded to the Hispanicize YouTube channel.
Will you be at Hispanicize '14? Let us know what session your looking forward to most below.
Read more about Hispanicize:
Sheila E. Marks 40 Years in Music, Receives 'Latinovator' Award